Gren girls step up, hard work pays off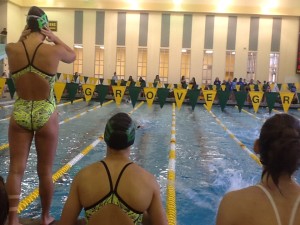 The Grenadier girls' volleyball and swimming teams had their work cut out for them before Homecoming week festivities began. Both teams hosted invites this weekend as the decorations were being set up.
"I think the competition is really good here and we just couldn't get into our element," said head volleyball coach Stephanie Kezios.
The Grenadiers indeed struggled and placed fourth with wins against Willowbrook and Burlington Central. The competition was fierce as Crystal Lake South won the tournament without losing a set.
They are still tied for first in the MSL East and snapped Hersey's 6 year conference winning streak earlier in the week.
The Grens had better luck in the pool. The swimming squad scored 324 points and earned third place behind IMSA and Niles North.
Senior Simona Kurta won in the 100 yard butterfly and earned third place in the 100 yard backstroke. Freshman Erin Falejczyk took third in the 50 and 100 yard freestyle. Falejczyk, Kurta and sophomores Alyssa Rosenorn and Sara Lasovska were runner-up in the 400 yard relay.
"[Today] was an improvement from the last three weeks," head coach Dave Toler said. "Based on past years, I kind of expected it at this meet and the girls stepped up and they did it. They did what I hoped they could do."
By Jack Kaup