Sugihara sets record, fuels girl swimming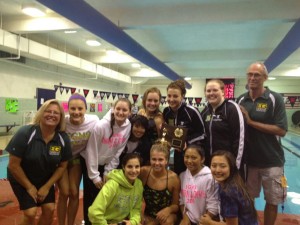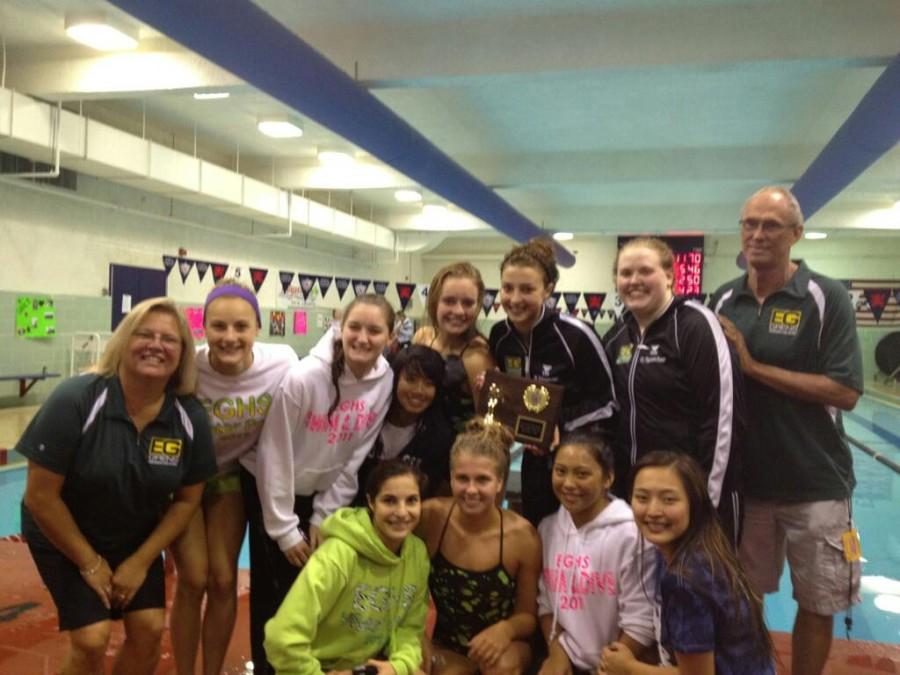 By: Yumi Miyazaki
Girls' swimming and diving started off the season with a huge success. At the home meet against Barrington on Aug. 31, freshman Nikki Sugihara broke the school's 100-yard backstroke record. The old record was 1:01.9. Sugihara managed to get the time of 1:01.85.
"After I saw the clock, I was really surprised. My team was really excited for me and I was excited too, but my next thought was that my legs hurt a lot!" Sugihara said.
The success of the record breaking time just shows the fruit of the girls' labor as the season began.
"This year we've added additional training times and increased the amount of what we call dry-land training, which is essentially weight training." said coach David Toler.
With increased frequency of practices and adding more rigor to their training, the girls– although unable to win against Barrington– came very close. In addition to Sugihara's new record and win on the 100-yard backstroke, junior Simona Kurta placed first in the 200-yard Individual Medley (IM) and second in the 100-yard butterfly.
Their success as a team is not just in the water. Their ability to unite as one, while representing the Grenadiers, has improved as well.
"Last year during the meets, we weren't really supportive of one another because we were busy doing our own things at the meet. But this year our coach had us watch our teammates compete and truly support them. It was an amazing experience. We were all cheering for each other and the atmosphere was definitely different from last year," said senior varsity captain Carlee Sprecher.
The other varsity captains include Morgan Schumacher and Angelica Ford.
"We're a much closer team this year and we cheer for all our teammates. With Nikki's new record, the team is definitely fueled up to set more new records this year," Kurta said.
As the season progresses and as the girls continue to polish their skills into perfection, both Toler and the team look forward to competing at more meets and hope to break more records and qualify for state.
On Sept. 8 the girls participated in the St. Viator's Invite and placed third out of nine teams with all the girls scoring points. Kurta won second in 100-yard butterfly and 200-yard IM. Ford and Sugihara won 2nd and 3rd respectively in 100-yard backstroke. Sugihara also won 2nd in 50-yard freestyle. Ford also placed 3rd in 200-yard freestyle. Kurta, Ford, Sugihara, and senior Jackie Hirschauer also competed in the 400-yard freestyle relay and placed 2nd.
An event that both Toler and the girls are looking forward to this season happens to be the Main East Relay, in which both the varsity and junior varsity compete together as a whole.
As for Sugihara, she has big expectations of her own as well.
"I just want another record up there, except not an individual one, but for the relay. My teammates and I work very well together, and I believe we all deserve it," Sugihara said. "But also I'd like to shorten my time for the 100-yard backstroke as well."