Senior night lets swimmers shine, underclassmen show off talents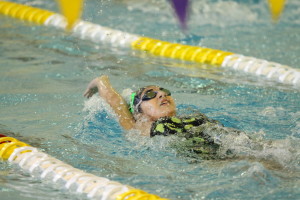 On Oct 4, despite facing some earlier setbacks at practice the previous day, the girls' swimming and diving team participated in their annual senior night. With a total of 14 seniors on the team, it was a memorable meet.
Due to the large amount of seniors being lost next year, senior night was key for the underclassmen to display their skills and strengths. Freshman Alyssa Rosenburg did just that by shaving off 30 seconds on her 50 meter free-style.
The following Saturday, Oct. 6, the team participated in a meet at Hersey high school, placing sixth out of the 12 teams there, a big improvement from last year where they placed tenth.
Freshman Nikki Sugihara, junior Simona Kurta and seniors Angelica Ford and Jackie Hirschauer were among the top finishers. As well as succeeding in the races, the team also participated in the dance competition.
With their last home meet yesterday, Sugihara, Kurta, Ford and Hirschauer looked forward to their last opportunity to break the school record on the 200 meter medley relay.
By: Yumi Miyazaki