Senior Gaskill savors what he can of shortened senior season
Senior athlete Joey Gaskill was always looking forward to his senior sports seasons. 
However, with the COVID-19 pandemic, those seasons are going to look a little different for the three-sport triple-threat athlete. Some of his sports are even overlapping.
Gaskill is involved in baseball, football, and wrestling at Elk Grove High School, but he has not experienced a usual season for any of those sports so far this year. Football, which usually occurs during the fall season, is now pushed back to a six-game spring season. Baseball and wrestling are both slated for April through June. 
Although this isn't what he imagined, the 2021 season is something multiple-sport athletes like Gaskill have had to savor.
"I was most looking forward to just being able to come back, compete, and be successful at all the sports I play," Gaskill said. "With missing most of my junior year from injury, it means a lot to be able to have one last season with the guys I've been playing with since we were kids."
Without getting to play as normal this past season, Gaskill, who missed his junior year wrestling season with a torn ACL, said the hardest part was not getting to work together with his teammates as they would in a normal practice. 
"A lot of the time there was nothing to do together or with the team and we had to do things on our own the best we could," Gaskill said. 
Looking back on the many memories of his high school sports, Gaskill says his favorite was during his sophomore year when the football team won its homecoming game against Wheeling. The entire student section rushed to the field after the team completed their win, which was the Grenadiers' first win since 2015.
"I'll miss the atmosphere and my teammates most after graduating," Gaskill said. "I've known many of these guys for so long so it'll be something I really miss."
Gaskill has helped set a strong example for his teammates of what committing to a sport should look like throughout his four years of high school.
"Joey is one of the most dedicated kids to the Elk Grove programs that I know, and he is the definition of what an EG athlete should be like," senior teammate Braden Wildi said. "He is a great role model for all his teammates and underclassmen as well."
This year of uncertainties is impacting everyone to different extents, but seniors are missing out on what could potentially be their last ever sports season. 
Fortunately, this is not the case for Gaskill. After years of hard work, he was provided with the opportunity to continue playing both football and baseball at the college level Illinois Wesleyan University in Bloomington, Illinois. 
"It's been a lot of fun having Joey as a teammate," Wildi said. "He's the kid that holds you to your highest standard and expects nothing but the best out of yourself."
Gaskill said he is thankful for the memories and experiences throughout his years of high school sports, and he said he is looking forward to continuing these experiences in his future at Illinois Wesleyan. 
About the Writer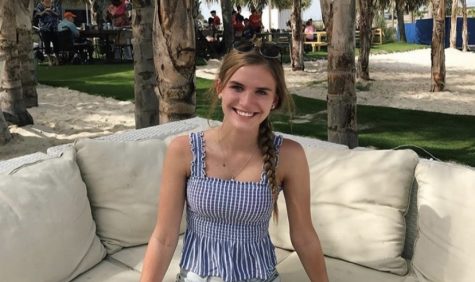 Hailey Gray,
Hi all! My name is Hailey Gray and I'm currently in my senior year here at Elk Grove. This year, I'm a sectional editor for The Guardian. Over the...