EGHS Guardian Volume LIV, Issue I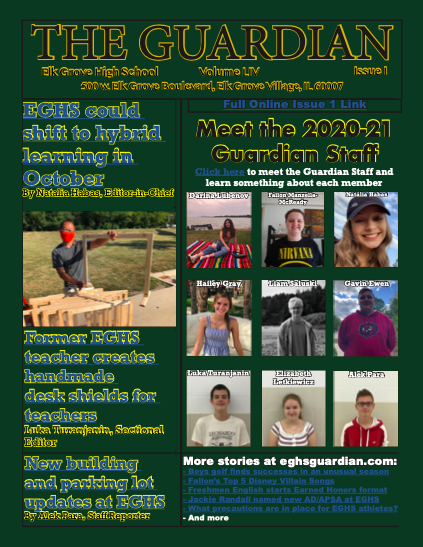 The Elk Grove Guardian
Volume LIV, Issue I
News/Features
Elk Grove High School could shift to hybrid learning in late October
The Township High School District 214 reopening guidelines could lead to a shift to hybrid learning with some students in the building and some staying remote.
Former EG teacher contributes handmade desk shields for teachers
Keith Mukai, a former English teacher at EG, saw that teachers might need help upon returning to school, especially those interacting with students. He decided to create desk shields, made with the help of former EGHS students.
New parking lot and building updates arrive at Elk Grove
There are several changes that have taken place at EGHS when it comes to facilities. Although many students have yet to see the new parking lot, journalism space, and manufacturing center, there are noticeable improvements that have been constructed around the school.
Jackie Randall named new APSA at Elk Grove High School
Elk Grove's Jackie Randall was named the new assistant principal of student activities and athletics at the school. A former girls athletic director and English teacher at EG, she replaced Bob Murphy who became principal at Friendship Jr. High.
Freshmen English classes shift to earned honors format
EGHS freshmen English students may have noticed that the "H" that stood for honors in front of "HWOC" has disappeared. Although the word honors is out, that doesn't mean that freshmen students can't get honors credit. Read on about how the earned honors credit format was designed and why teachers decided to go with it.
Opinion
Point/Counterpoint: Songs with the same title
Darina Lubenov and Fallon Manzella-McReady go head-to-head in a point/counterpoint about songs with the same names.
Entertainment
Gaming becomes smaller, more mobile with the new generation of consoles
New gaming consoles always make for exciting releases. What, though, do these new digital releases say about the next generation of gaming?
Sectional editor Liam Saluski breaks down some of the most chilling books that best represent the turn of the season.
Fallon Manzella-McReady takes over the Top 5 column. Her first contribution breaks down best and most evil Disney villain songs.
Sports
What precautions are in place for EGHS athletes and performers?
The pandemic has created a tough situation for many. Sports teams who normally participated in the spring and in the fall are having to adapt, and certain activities have to rethink their approach with precautions in place.
Boys golf celebrates successes in an unusual season
The EGHS boys golf team has a rising group of underclassmen who have risen to the occasion for the Grens. As of publishing time, the team is having its best season in years despite the Covid-19 precautions that have changed the way the team operates.
Sports column: Luka Doncic represents wave of youth in NBA
Sports columnist Alek Para breaks down a young phenom in professional basketball. Read on about how Doncic represents a microcosm of young talent in the league.
Staff Credits
Editor-in-Chief
Natalia Habas
Sectional Editors
Gavin Ewen
Hailey Gray
Darina Lubenov
Liam Saluski
Luka Turanjanin
Staff Reporters
Fallon Manzella-McReady
Elizabeth Letkiewicz
Alek Para
Adviser 
Kevin Modelski