Former EG teacher contributes handmade desk shields for teachers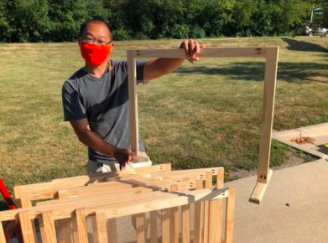 Keith Mukai acknowledged that he's lucky to work from home as a programmer during the coronavirus pandemic. However, it's his former career that raised the most amount of concern for him. 
"For teachers and students it's such a difficult situation," Mukai, who taught English at Elk Grove in 2010 and 2011. "I wanted to find a way to make that difficult situation better but [something that] also lets teachers work with students in a way even before the virus."
That concern led Mukai to create plexiglass desk shields, which he contributed to EGHS. They are built so that teachers can safely work with students as certain waves of students re-enter the building.
Mukai said plexiglass shields he's seen at stores like Menard's were the inspiration for the 30 desk shields he produced. He dropped them off at EGHS in late August. 
Mukai is well associated with some of the teachers at Elk Grove due to his time at the school. He had contacted some of the teachers he knew at the school and asked about the plans for the school year. Mukai conceived his idea for the desk shields over one weekend. 
He first contacted Elk Grove High's English division head Mecca Sadler and assistant principal of operations Kyle Burritt. Mukai said he paid for the raw materials by recruiting help from former EGHS students. He created a GoFundMe page to receive donations for the materials.
He ended up with about $465 to buy the materials.
"I was super proud of the final product," Mukai said. "I wasn't focused on making them look good, but they ended up looking really good."
Neethu Thamy, an Elk Grove alum, helped Mukai with the project. 
"Mr. Mukai had already done the preparation work, so we basically got in assembly-line mode and finished up the shields," Thampy said in an email. 
Thampy met Mukai back in Elk Grove when she participated in gymnastics. She later got in contact with Mukai again via social media.
Around the last day of the project, Thampy helped Mukai for about six hours to set up the assembly line for the desk shields. 
"Hopefully, these shields will help continue in-person education for as long as possible," Thampy said. "Nothing is a guarantee, but effort from all parties involved will go a long way."