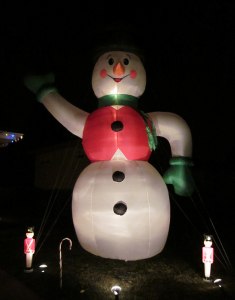 He started out small, just helping his dad throw a few strings of Christmas or Halloween lights on the bushes around his house. By second grade, however, senior Matthew Katzenmayer was decorating the front of his house all by himself.
"When I was helping my dad for those first couple years, I was just helping change the bulbs on the gutter and making sure the lights were spaced evenly on the bushes and just small stuff like that," Katzenmayer said. "These days, I usually start by bringing everything out into the garage, most of which is stored in the attic."
He said that this usually takes a whole day to do. After this, he brings everything into his yard, assembles all the pieces and connects them with his miles of extension cords.
Katzenmayer said that he likes to stay on top of the newest decorations on the market and the newest decoration technology.  He mostly taught himself everything that he knows about lights, sound and computers.
Story continues below advertisement
The lights and sounds surrounding his house all connect to a computer that Katzenmayer bought four years ago. He writes all the programs that control the ways the lights flash on and off.
He buys all the decorations himself, too.
"I was one of the first in the entire area to have the inflatable decorations when they first came out in 2001," he said. "I'm pretty sure I was the only second grader dropping $50 at Target on inflatable Frankensteins that year."
And while others in his neighborhood may just put a few reindeer in their front yards, Katzenmayer continues to put up his display, including his signature 20-foot inflatable snowman. As a matter of fact, his tradition actually started because of his next-door neighbors.
"When I was little, I would always go over when they were setting [their display] up and offer advice and help carry things around. So I got the bug from them," he said.
"Then after a couple of years of helping them and my dad, it occurred to me that our house paled in comparison to what they did, so I decided I needed to step it up a notch. From that year on, it's been my friendly and unspoken goal to try to out-decorate them."
He has gained a little bit of fame around the area. In the past, he has been contracted out by people in his neighborhood as well as in Barrington in order to set up their holiday displays.
This is his senior year and, with college next year, Katzenmayer might run into some trouble when it comes to setting up his displays. He said that there's a good chance he might get into a college five hours from his home, so it will be difficult to set everything up in time for the holidays.
"I haven't thought about it too much yet, but the goal is to hopefully get everything set up when I'm home for Thanksgiving next year. I'd have to go hard and really crank everything out in a couple of days, but I think if I want it bad enough—and I do—I can probably get it done," he said.
Even with college just around the corner, however, Katzenmayer hopes to add new things to display at some point in the future.
"I actually have plans for, hopefully, either a new snowman or a huge tree that I can do all kinds of special effects with in the next few years to make up for the lack of additions," he said.
By: Ellie Papadakis