Race to finish success for Stegmeier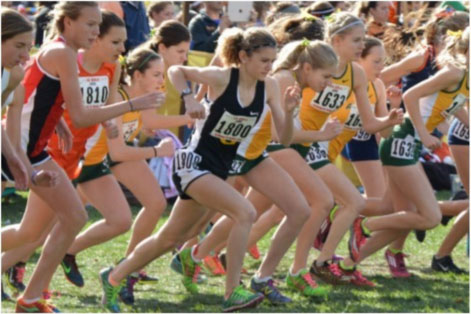 This year's girls' cross country season has come to an end, and with hard work and dedication, the girls finished strong in the last couple weeks of their season.
On Sat., October 31, the girls' cross country team ran at the Lake Park sectional. Overall, the girls' performance at sectionals was strong, even though they didn't qualify for state, and placed 13th with 369 points. One of the girls who ran on the sectional team was junior Karolina Koziarski.
"I thought sectionals were very successful for everyone on the team because everyone gave it their all and left it all on the course," Koziarski said.
The one performance that stood out at sectionals, though, was junior Emily Stegmeier, as she placed 4th in her race for Class 3A with a time of 17:52. This qualified her to be able to compete at state.
The state competition this year was held on Sat., November 7 at Detweiller Park in Peoria. About fifteen girls on the team rode down to Peoria that morning to support Stegmeier in her race.
"It was really great to have all my teammates there to support me," Stegmeier said.
Girls' cross country coach Mark Heintz was especially excited and proud of Stegmeier's achievement.
"This was the first time we had anyone go to state since '08, so it's been awhile," Heintz said.
Heintz felt that the girls who went to watch Stegmeier race greatly benefitted by being able to experience a state race.
"That's a really cool thing for people who are not competing to want to go and cheer her on," Heintz said. "They felt that it was part of their experience. Emily just represents the hard work that everybody has, so it's cool that they actually felt that it was special to them too."
At the IHSA 3A State Final on the Detweiller Park course, Stegmeier was just shy of making All-State by finishing 29th overall out of Illinois' best 217 competitors. Stegmeier was one second off, earning her best personal record in a three mile distance by finishing at a time of 17:24 at the state final.
When looking forward to next year, Heintz expressed his hopes for the team as the seniors move on to college.
"We lose five or four seniors in our top seven [next year]," Heintz said. "It's hard to always replace the seniors who are positive and always doing everything that they need to, but hoping that the underclassmen do step up under those roles, see what they learn from them and hopefully improve upon it if they need to so, that we can continue to qualify as a team."
Overall, the team had a successful season, and Heintz hopes that next year's season will be even better.
"I thought that it was a really big success having the team qualify and having so many people come down and cheer at the various meets," Heintz said. "It was an overall great season for them, and I'm looking forward to continue that greatness."