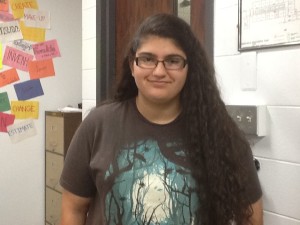 You can find her in orchestra, you can see her marching in band, you can find her competing in Scholastic Bowl, and you may even spot her in some college classes at Harper. Junior Yasmin Mitchel loves to be involved with the school.
"I'm in so much stuff, but I feel like if I don't have anything to do, I'll just stop," Mitchel said. "I just have to keep going."
And her perseverance hasn't failed her yet, especially with her other passion: Tech Crew.
Mitchel was selected as one of 30 out of hundreds of kids in the state to be a part of the 2013 Illinois High School Theatre Festival Tech Crew production of "Memphis." Of the 30, Mitchel was also selected as one of three to be stage managers.The tech crew is responsible for building the set and assisting with the production.
Story continues below advertisement
"I was really excited that I got picked because it's, like, a prestigious thing out of the whole state," Mitchel said. "Through watching us interact with other people and the way we work, they were able to choose what we do and they chose who they thought were leaders and as a junior, it doesn't happen as often and I'm really happy."
The process consists of eight build weekends, which began in August, where the group goes to Victor J. Andrew High School to build the set.
"It's nine to 12 hours of hard labor work," Mitchel said. "It's a lot of dedication."
The application consisted of an online application, a comprehensive portfolio and resumé showcasing all of the work Mitchel has contributed to tech crew since her freshman year and an interview.
Theatre Festival will be held at the University of Illinois Urbana-Champaign in January.
With all of this dedication, Mitchel has had to make other sacrifices, such as not being able to go with band to Sugar Bowl later this month. But she believes that this will pay off in the long run.
"'It doesn't bother me that much because this is what I want to do with my life after high school so this will distinguish me from other applicants," Mitchel said. "And I'm hoping that this will help me because it's a learning process, so hopefully I'm becoming more efficient and better at what I'm doing."
By: Tom Scearce