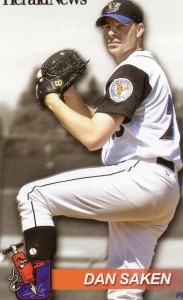 In the classroom, AP U.S. History teacher Dan Saken is eager to share his passion for history with all of his students. However, history is not the only thing that Saken is passionate about. He used to be a professional baseball player.
Like many 6 year old boys, Saken began his career by playing t-ball, and started to play in the minor leagues in 2003.
Saken played in the minor leagues for the Joliet Jackhammers and then the Kane County Cougars, but also played college ball for Harvard.
One of the best parts according to Saken, was getting the opportunity to live out his dream with many other people from different countries.
Story continues below advertisement
"You have guys in the professional level from all over, including different countries that are chasing after a dream" Saken said "Or at least trying to let their dream live on a little longer, which I think really is what I was doing".
Before beginning his professional baseball career, Saken was a full time substitute teacher, which fueled his desire to become an actual teacher once he injured his shoulder, causing him to quit playing baseball.
Saken used to help his old basketball coach at his old high school, which was another factor that inspired him to become a teacher.
He loves the interactions he has with students just as much as he loved playing baseball, and students can find him coaching boys varsity basketball this winter.
Saken's favorite part of playing professionally was getting the opportunity to get paid to do what he loves.
"When you have a dream that you like to realize, and you know that you're waking up and you're going to be able to do that as a job and be paid for it too," Saken said "it is pretty special."
By: Codi Oehlerking