Choir director Catt leaving EG for director opportunity at Elmhurst College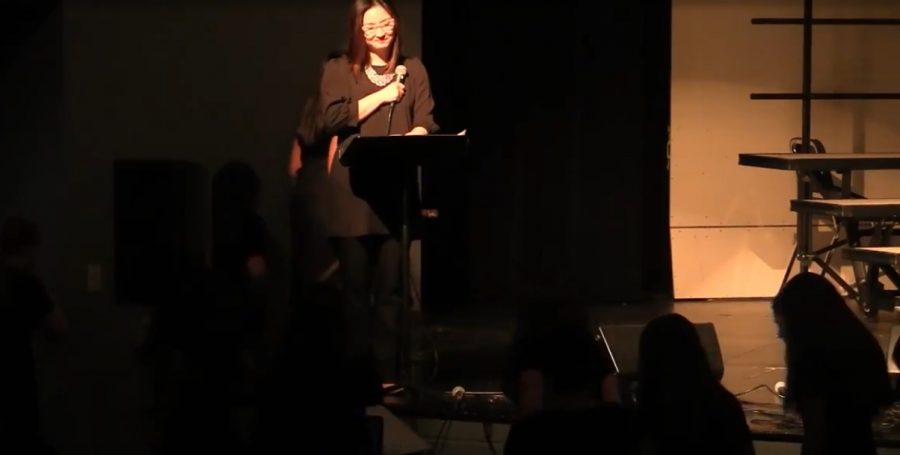 Wrapping up her ninth year here at Elk Grove High School, chorus teacher Sarah Catt will be stepping away from the high school choir scene to become director of choral activities at Elmhurst College.
Throughout Catt's nine years, she has shaped EG's choral department in myriad ways. The choir program has become a home to many students throughout the years, with several of those students some- times referring to it as their second home.
Through ups and downs, Catt's presence at EG has been felt by her students, who are sad to see her go.
"I've realized these past few weeks how lucky I have been to work as a part of a mu- sic team that's not about competition and trying to outdo others for their own per- sonal gain," Catt said. "Our team of mu- sic teachers, including [orchestra teacher Maura] Brown and [band teacher Ron] Fiorito, is about being supportive, positive, and encouraging to all of our students. I will forever be thankful to have had them as colleagues."
For Catt, it was a difficult choice, given what she has built up over the years. Hav- ing the chance to teach at Elmhurst College was an exciting opportunity for both Catt and her family. As the wife of Brandon Catt and mother to Amelia, accepting the job offer will open many possibilities for the future to come.
While many schools are focused on be- ing the best, Catt, as well as Fiorito and Brown, have prepared their students solely to make sure that above all else, they are having fun.
Catt also emphasized her gratitude for having been a part of students' lives as a whole.
"What we have done here every single day, through the last nine years, I cannot express enough gratitude," Catt said, ad- dressing her students "You have inspired me to want to be the best that I can be. You have taught me how to be a better teacher. You have taught me how to be a better mu- sician. You have taught me how to be a bet- ter human. You have taught me how to be a better wife and mother.
"I have learned more from our stu- dents that I could have ever possibly taught them," she added.
The bond between Catt and her students is one that perhaps could never be broken.
"When the world gets dark and grey, I could always come into the choir room and know that our students would be my light," Catt said.
Catt thanked the EG Choirs, the EGHS staff and the Elk Grove community.
And while it will be, as stated before, difficult for many of the students familiar with Catt to see her go, Catt can't wait to see what else is in store for her students moving forward.
"I will forever be thankful for all that I have learned from the people here and hope to share some of your light and wis- dom with the people I will work with at Elmhurst College," Catt said in an address to her students at their final choir concert of the year.