For Dominic Belmonte, choosing his football jersey number wasn't so easy at first.
Belmonte wanted No. 14 as a freshman, but it had already been taken. But, he turned to his next option: No. 8.
"No. 8 was a last-minute choice, but when I actually thought about it, I ended up liking it because my teammate, Logan Tosterud is No. 6, [Lucas] Rogers is No. 7, and I'm No. 8," Belmonte said. "I thought it would be cool for the trio to be 6, 7, and 8."
It was a natural fit having his number in succession with Tosterud and Rogers. The three senior best friends have spent the past nine years playing football together. The fall 2023 football season will likely be the last time the 6-7-8 trio takes the field.
Story continues below advertisement
Rogers, Tosterud, and Belmonte began their football careers back on the Elk Grove Park District football teams. As youth football players, they gained an appreciation for the sport thanks to their most significant role models. For Rogers, it was his older brother Josh, who also wore No. 7 in football.
"My brother Josh is my biggest role model," Rogers said. "I always followed him around when I was young and trying to be like him."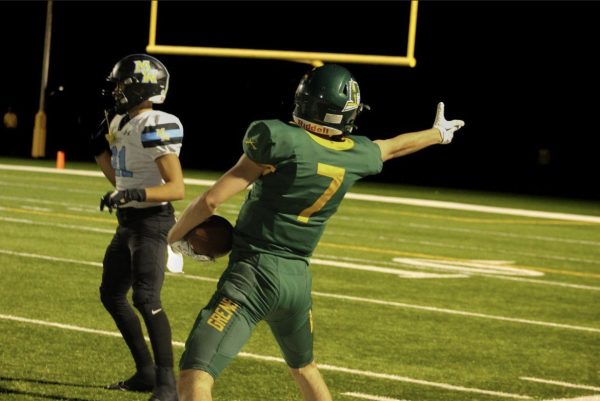 On the other hand, Belmonte said his most prominent supporter has always been his mother.
"Even though I've been playing my whole life, she's still there to support [me]," Belmonte said.
As Rogers and Belmonte have grown up together, they have very similar pre-game rituals. Both of them enjoy taking naps, and even listening to some of their favorite music to calm them down.
"I nap before every game, and sometimes I listen to country music to calm me down, especially Luke Combs," Rogers said. 
Belmonte, on the other hand, usually listens to Drake. 
As upperclassmen, Belmonte and Rogers frequently step up and help out their younger teammates in these stressful situations.
"If my teammates ever make a mistake and are hard on themselves, I talk them through it," Belmonte said. "I have a lot of experience with football, so it feels good to help out my younger teammates if they are feeling nervous, I'm able to hype them up."
Belmonte said that underclassmen should always "have fun. It's a short amount of time that you're able to play high school sports, so enjoy your time here."
Despite that short amount of time that the trio has left at Elk Grove, their bond throughout high school is hard to break almost nine years after they first played park district football together.
"They're my guys," Tosterud said. "I've been through thick and thin with them. They'll do anything for me, and I'll do anything for them."