Lindfors overcomes medical condition, continues to be successful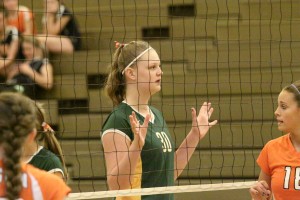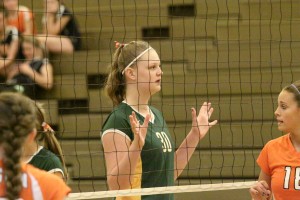 The start of the 2012-2013 school year has not been kind to sophomore Amber Lindfors. At the beginning of August, Lindfors wasn't feeling well and decided to visit the doctor. Shortly after, she was diagnosed with Hyperthyroidism.
Hyperthyroidism is when one's thyroid, which is a gland located in your throat, secretes too much thyroid hormone which in turn can affect your metabolism, heart, muscles, bones, and cholesterol.
As a direct result of hyperthyroidism, one may lose weight quickly, have an increased heartbeat, sweat a lot, or feel nervous and moody. Lindfors' Hyperthyroidism also limits her speaking ability.
Lindfors has recovered from her medical condition and will play in the Hawaiian-themed game for junior varsity and varsity tonight.
People with hyperthyroidism can overcome their medical condition and go on to lead generally healthy lives.
"They took out my thyroid and I'm in a lot of pain," Lindfors said. "Once my scar heals I'll be fine but I have to take pills the rest of my life."
Lindfors' ability to work through her condition is impressive and does not go unnoticed by coach Stephanie Kezios.
"She is one of the most respectful athletes I've ever met," Kezios said. "She accepts her role on the team and is very supportive of the goals of the program."
As for the rest of the volleyball program, Kezios has set very high expectations for this year.
"We have a very talented group of seniors this year and we're on the right path toward reaching pre-season goals," Kezios said.
The volleyball teams of the past few years have had success, but Kezios hopes to raise the bar this year.
"Our goal is to win a conference championship and to create a unified team who comes ready to play everyday," she said.
Kezios also has more confidence with this year's team than with the past few years.
"We have very good leaders this year," Kezios said, "and the amount of competitive attitude is incredible."
By: Andrew Noonan