Senior Philip takes nursing talents to Carroll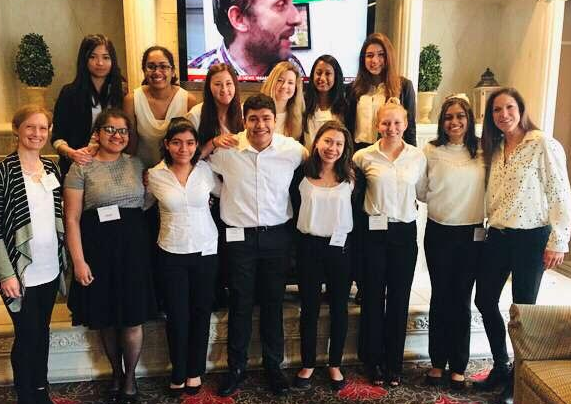 There were a few courses at Elk Grove that helped senior Sanya Philip get to where she is today.
There was introduction to health. There was medical terminology. There was CNA, and also health careers club.
Because of her experience in and out of the classroom, Philip is now off to Carroll University in the fall to major in nursing.
"They have a direct nursing program so I knew I would be able to start my nursing journey as a freshman," Philip said.
Carroll University is known for nursing, physical therapy, and business. Philip was also the recipient of the Charles Carroll scholarship, good for $18,000 a year at the school.  
In addition to her in-class work at Elk Grove, Philip also shined outside of the classroom. She competed with SkillsUSA to compete as a nursing assistant.
"I knew I wanted to be a nurse my sophomore year, and going to SkillsUSA did not change that," Philip said. "In fact it only confirmed my decision."
One of the biggest factors for Philip choosing a college was diversity.
"I wanted a school that I knew I'd be able to fit in and be around people from different cultures and ethnicities," she said. "They also have an Indian dance team that I would like to join."
Philip is excited for the hands on experience in the nursing program, and knows she will have the knowledge to succeed.
"The most exciting part about going to college would be being able to have a fresh start," she added. "It is a new chapter in your life, and you figure out who and what you want to be."
One person who helped Philip on her journey through high school was security guard Rod Dabe.
"I met Rod my freshman year during lunch," Philip said.
Rod soon became someone who Philip could go to for anything.
"It is like that saying we have laughed together, and we have cried together," Dabe said. "My favorite memory with Sanya was when she asked if she could be the person to walk with me for Veterans Day. It was one of the first days we were back in school and Veterans Day was not until November. It made me so excited."
Dabe said he is excited to see Philip succeed in her career as well as her life, and he hopes they stay in touch.
Looking back on her time, Philip said she wishes upperclassmen told her that high school "really does fly by, so make the most of it. Go to homecoming, go to football games, dress up for spirit week and experience high school. Do not spend your time worrying about the little things and the things you can not change."
Philip said she hopes to have a good freshman year in college and aims high to be successful in her career.
"So enjoy high school and make the most of it because before you know it you will be in my shoes wondering where the time went.