Despite factual errors, 'Bohemian Rhapsody' remains true to Queen spirit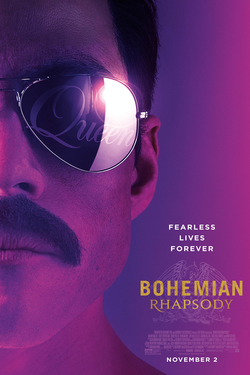 It's Friday, the 23rd of November. I'm sitting in a red movie theater chair, anxiously waiting for previews to end. "Bohemian Rhapsody" — the movie, not the song — will be playing on the big screen in less than five minutes.
For the past three years, I have been obsessed with Queen, so this was a movie that I had been dying to see. By the time the credits were rolling, I was impressed to say the least. But there were certainly a few elements that had angered me.
Well, really just one big thing: the timeline.
While I will admit a biopic like this can be difficult to execute, perhaps the production crew should have been better at keeping its facts straight.
In "Bohemian Rhapsody," lead singer Freddie Mercury, then known as Freddie Bulsara, met future fellow bandmates Brian May and Roger Taylor during the year 1970 after a live performance of their former band, Smile. Later, they hired John Deacon to be their bassist. This, however, wasn't at all correct. Freddie, as a matter of fact, had been friends with both May and Taylor since the year 1969, and they had actually lived together for a while before they had formed their hit band.
The movie also claims that on the same night that Mercury met May and Taylor, he also met his future longtime girlfriend, Mary Austin. However, this also wasn't factually correct. Austin had actually been dating Brian May before dating Freddie Mercury. It was said by Brian May in an interview last year with Yahoo! Entertainment that Mercury had asked May if he was in a serious relationship with Mary Austin, and whether or not he could ask her out.
Personally, my biggest problem with the movie was the Live Aid concert in 1985. Or, really, before the event. Perhaps a week before they group was set to perform, Mercury informed his bandmates that he had been diagnosed with AIDS. In reality, the fellow Queen members weren't informed of Mercury's diagnosis until four years after Live Aid.
To any hardcore Queen fan, those facts could be a bit upsetting. Especially seeing as Brian May had helped provide input for the movie as well.
The best thing about "Bohemian Rhapsody" is, by far, the casting. The minute it was announced that Rami Malek would be playing Freddie Mercury, I was overjoyed. Malek certainly lived up to my expectations as well. Each cast member portrayed their character outstandingly, and I don't think it could have been any better. Hair, Makeup, Costume Design. Everything was phenomenal. I couldn't have asked for anything better.
Despite these timeline errors, Bohemian Rhapsody was an extraordinary film. I would pay to see it again if I could.