Pingpong players put down paddles…for now
A hyped-up pingpong match between a security guard and a sophomore at EGHS was postponed.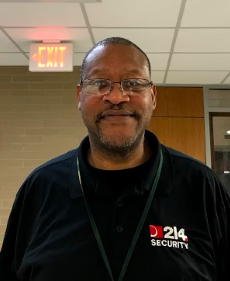 Despite their differences in height, age and wingspan, Lamon Berry and Maria Sirakova share a love for one game: pingpong.
A pingpong match between Sirakova, a sophomore at Elk Grove High School, and Berry, a well-known security staff member, was scheduled for Friday, Oct. 12 in the cafeteria.
Unfortunately, due to Berry's hip recovery, the match was cancelled. Berry remains unsure of when his hip will improve.
The proposed match had been making waves among students and staff members for a while now. EGHS director of athletics Robert Murphy thought the timing was right for a pingpong showdown.
"Mr. Berry is the self-proclaimed best ping pong player in the school, and he's been taunting that as his title for years," Murphy said. "We found out that there is a student here who plays competitive ping pong and we decided to get a match together."
That student is Sirakova. Sirakova plays ping-pong at Experior Table Tennis Club in Chicago, where she's a part of an an all-age, co-ed league. Last year, Sirakova traveled to Las Vegas for a semifinal competition. Her ping-pong passion has opened up doors for her.
The match against Berry made its way to her.
But then an obstacle arose.
"We started talking about it, and then Mr. Berry was ready to go," said Murphy. "Then he thought about his hip and he was worried about his hip so we decided to push it back a few months."
Berry had surgery on his hip over the summer of this year, which delayed his start to the school year. The pingpong patch is rescheduled to Thursday, Jan. 31 during the winter pep assembly.
Berry, however, has expressed that with his hip, he may not be ready to go.
"If I'm cleared, the ping pong match will be good," Berry said. "I'm confident I'll win."
Yes, both Berry and Sirakova are excited. But what's at
stake in this highly anticipated ping-pong match?
"Bragging rights," Murphy said.