EGHS band, color guard garner September success
The EGHS band and color guard squads took home first-place gold twice this month.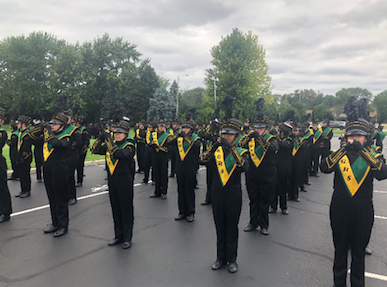 Hang on for a minute...we're trying to find some more stories you might like.
At first, Ron Fiorito was nothing but delighted.
And then it happened again. Fiorito, Elk Grove High School's band director of 14 years, had never seen his Marching Grenadiers win consecutive events.
"The band has had success in the past but has never won two competitions in a row," Fiorito said.
The Marching Grens took home first-place hardware at both Amos Alonzo Stagg and Wheeling high schools on Sept. 8 and Sept. 16, respectively. The Wheeling victory awarded the EGHS drum majors with a special $550 scholarship to the prestigious Smith Walbridge Drum Major Camp outside of Champaign, Ill.
The drum majors were awarded the prestigious scholarship by edging out 17 other bands in the competition. During the Wheeling competition, Fiorito was additionally impressed with EGHS's Color Guard. He believes the color guard played an immense role in winning this competition, thanks to the group's precise movements and  smooth transitions.
"You have to take advantage of the time you have, because eight and a half minutes isn't a long time to impress the judges," Fiorito said.
In the Wheeling competition, the EGHS band and color guard garnered Best Color Guard, Best Percussion, Best Drum Majors, Best Visual Performance and Best Music in Class 2A. And, of course, the aforementioned drum majors collected the scholarship for being the best that day.
At Stagg, the Marching Grens and color guard were successful in multiple categories which earned them first place out of 17 teams. This was the band and color guard's first joint competition of the year, so this had Fiorito ecstatic with the result. In all, both squads took home Best Color Guard, Best Percussion, Best Drum Majors, Best Visual Performance and Best Music in 2A.
To prepare for competitions, the band practices as one whole group on Wednesday nights for two and a half hours. All the other work is done during the school day. The band and color guard play a halftime show for all home football games, and then both units see their hard work come to life at weekend competitions.
Katelyn Manka, a freshman flute player in the EGHS band, feels very confident thanks to the band's recent success. Her favorite part about the band is its diversity, which she believes gives bands a better shot at winning. Manka also says she loves the social aspect of band. She hopes for more successes like this in the future.
"The band is like a family to me, and it's just a great thing to be a part of," Manka said.
Although the year is just starting, the recent wins have definitely boosted the Marching Grenadiers' confidence. They'll take that confidence into upcoming competitions, including a trip to Robert Morris University. There the band and color guard will perform at the Forest View Educational Center on Oct. 7.
Also, both the band and color guard will perform at Illinois State University on Oct. 20 inside Hancock Stadium. This event will showcase 42 schools. The Marching Grenadiers have never performed at ISU, and it will be webcasted as well.
With all these upcoming competitions on the calendar, Fiorito feels like the band and color guard can makes names for themselves once again.