"Once on This Island" readies for April performances
Show to take place April 20-23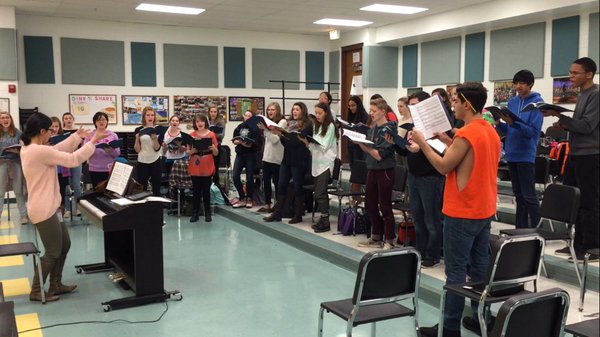 Musical may be four months later this year, but the excitement is still running high as the students get ready for this year's show.
"Once on This Island" is the name of the show, playing from April 20-23 at 7 PM nightly, and it revolves around the story of peasant girl Ti Moune.
Picking the school musical each year is a complicated process for Musical Director Joseph Wolfe.
"I try to select a show that will play to [the] strengths and weaknesses of who I believe are people that could be potential lead characters in a show," Wolfe said. "Not to say that the show is chosen for them, but I need to make sure that we have all the parts covered."
Even before their actual auditions, the students were already essentially auditioning.
"Their audition for next year's musical is this year's rehearsals," Wolfe said.  "While I'm watching what they're doing with this year's show, I have a perfect opportunity to see exactly what they're capable of."
With that in mind, auditions still often take Wolfe by surprise.
"There are always people that I've never met before that audition… that continue to surprise me with the level of talent," Wolfe said. "Oftentimes, it's a junior or even a senior, and I didn't even know that they existed, and I didn't even know that they were so talented."
The inevitability of students moving on changes the process yearly.
"A lot of [boys in the program] graduated… last year," Wolfe said. "Almost every boy in the program is new this year."
Freshman Nick Benjamin, who plays Ton Ton Julian, went into the process somewhat nervous.
"I didn't know if [being a freshman] would affect me being able to have a major role in the show," Benjamin said.
Students such as sophomore Claire Glennon, who is one of four storytellers in the show, agree that nothing is set in stone.
"You are always hopeful to get the part that you audition for, but you have to go in with an open mind," Glennon said.
Getting the perfect role takes much preparation.
"When I tried out for this musical, I had my sights set on the lead Ti Moune," senior Taylor Matos said. "I worked very hard before hand to know all the audition pieces."
When the cast list goes up, the musical is often still in a state of flux.

"There was one role… the character's name is Armand, and he's featured in a particular song," Wolfe said. "I put a question mark [on the cast list] there because we were considering cutting the song."
Often, commitment to a song is still not completely fixed until after rehearsals start.
"There was one particular song that's a solo, and it's very challenging to sing," Wolfe said. "I didn't want to make a commitment… without having to hear more than what was happening in a five minute audition."
This raised even more questions of how exactly to go about posting the cast list.
"Just because of how things fit with the calendar, and other conflicts that were going on… I wanted to get the cast list up as soon as possible," Wolfe said.  "I don't want to create any more anxiety than the process already does."
Senior Elizabeth Bauer, who is another storyteller in the show, can certainly agree that auditions are anxiety-inducing.
"The audition process was as per usual very emotionally stressful," Bauer said. "The days following always end up a mental game of over analyzing anything and everything to do with musical."
Although she had hoped for a lead role, she is hardly regretful.
"I knew how competitive auditions would be this year with the amount of talent we have," Bauer said. "Even though I hoped for a lead, I respect the decisions made and know those people deserved it and will do amazing."
Once the rehearsals start, Wolfe takes a firm role.
"Right now, I'm primarily focused on the blocking… and the teaching of the dances," Wolfe said. "I also sit through the vocal rehearsals, and help with character assignment, interpretation, [and] any kind of musical cuts."
Wolfe doesn't do it all alone.
"I have some assistant directors, and I guide them along the way with what I'm looking for," Wolfe said.
Choir director Sarah Catt is also the vocal director of the musical; the approach to the musical's music is very different than the approach to a choir piece.  
"We joke about how we get to "break a ton of rules" when singing for musical," Catt said. "It's just a different sound. Still healthy! But different."
The rehearsals are normally two and a half hours, but the commitment does not stop when rehearsal ends.
"I tell students that I want them to have listened to these pieces before coming to rehearsals so that they put together the pieces quicker," Catt said.  "I especially emphasize this to leads."
Matos can attest that the process is sometimes mundane.
"It gets tiring and boring after a while, but after seeing how it all comes together, it's definitely worth all the hours of practice," Matos said.
The progress doesn't always last.
"It's a little frustrating when we can't connect the learned songs to the next rehearsals, so we have to backtrack a little," senior Kathryn Riopel said.
Riopel is adjusting to having a lead role.
"This process is so different for me this year because I have never gotten a lead before," Riopel said. "The blocking, lines, character work, and additional songs that I have to learn [are] so different from my previous years."
The rehearsal schedule is also being gone about differently.
"Instead of learning all of the vocals and then doing all of the choreography and blocking, we are alternating days… having a vocal rehearsal one day and then a choreography/blocking rehearsal the next day," Glennon said. "This is helping us really nail everything down like choreography without forgetting music or vice versa."
While the vocals and blocking are significant, they certainly aren't everything.
"I'm also working with our tech director to help design what the set is going to look like, and really capture my vision there," Wolfe. "We also have a costume designer, and I'm working with her on what I want the overall look to be in terms of costume functionality, costume changes, different kinds of color themes, etcetera," Wolfe said.
Students also work to overcome the frustrations of their roles.
"I am playing the "father figure" of the show," Benjamin said. "It's difficult for me to be able to act in a parental manner, considering I'm only 15."
It can be overbearing, especially considering the timeframe.
"There's a lot to learn and only so much time to do it," Matos said. "Thankfully, the cast and the people helping us make everything go smoothly."
It can be a lot of fun if everyone knows what they're doing.
"[We've] learned all of our music, so it's easy to jam out," senior Vanessa Leon said.
As the dates get closer, the cast and staff work even harder.
"It becomes more intensified," Wolfe said. "It's never like it's fully done."
Conflicts will often get in the way of this, but not to a major extent.
"It's unusual to have all of the students in the cast there for every rehearsal," Wolfe said.
The change in dates is not quite as significant as it may seem in the context of rehearsals.
"There will always be conflicts, no matter where we put [musical] in the calendar," Wolfe said. "I don't know if they've intensified, they're just different conflicts than they would have been in December."
This mindset continues right up to the performances.
"After the first performance… we give students notes on things that they did well, and things that we want them to improve upon," Wolfe said. "We're always striving to make the product better."
Even with the stress and long hours, the consensus is that it's all worth it.
"I had the time of my life [last year]… I made so many new friends and got closer to old ones," Glennon said. "I'm looking forward to making more memories this year with the new cast."
Staff and cast alike are looking forward to the finished product.
"The show is in great shape, and I know that we'll be able to put on a great performance in April," Benjamin said.
About the Writer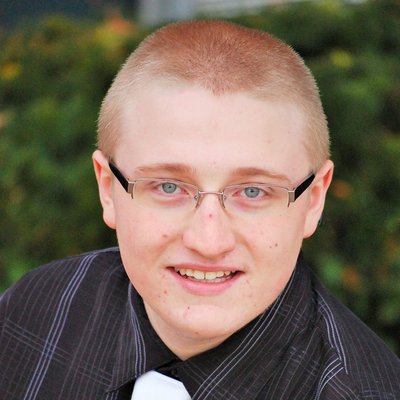 Evan Hatfield, Editor-in-Chief
Your former humble copy editor, and current humbler editor-in-chief.

This is my third (and final) year on staff, and I'm hoping to go out with a bang!