'Shannara Chronicles' puts new spin on classic fantasy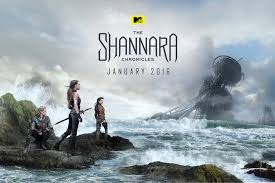 Another book series turned TV show has begun. The series debut of MTV's "The Shannara Chronicles" aired January 5. Not unlike HBO's "Game of Thrones," "The Shannara Chronicles" has made its way from a series of books to the silver screen.
Based off multiple novels written by Terry Brooks, "The Shannara Chronicles" gives a little twist which configures classic fantasy to a futuristic, post-apocalyptic world. The show is only six episodes in, and the visual quality is that of "Lord of the Rings."
Brooks has written many novels that include "Shannara" in their title. These books incorporate some of the most iconic fictional creatures and races in fantasy such as: Elves, Druids, Dwarves, Trolls, Gnomes, and many others. Both the books and the TV show take place many years in the future, long after the fall of humanity. It happens so long in the future that the main character at one point refers to 21st Century humans as ancient beings.
Even though it takes place far in the future, modern weapons and machines don't exist. Thankfully this is the case as it allows a quick and simple explanation as to why the elves and humans use swords and spears instead of machine guns and bazookas. The designers then had an excuse to unleash their creativity when creating the costumes and the very stylish weaponry.
When it comes to the characters on screen, the casting crew got it just right. Every actor and actress fits their role perfectly without a doubt. While looking speechlessly outstanding and having the most badass sword, actor Manu Bennett portrays Allanon, the last surviving druid of Paranor, sets out on a relentless quest to find the last of the Shannara Bloodline and stop an army of demons from conquering and killing everyone on Earth. Actor Austin Butler portrays Wil Ohmsford, the last of the Shannara Bloodline. Alongside the gorgeous Elven Princess, Amberle Elessedil, played by actress Poppy Drayton, and the seductive Human Rover, Eretria, played by actress Ivana Baquero, Wil must learn how to control the powers he has inherited from his ancestors and find a way to save the world from darkness.