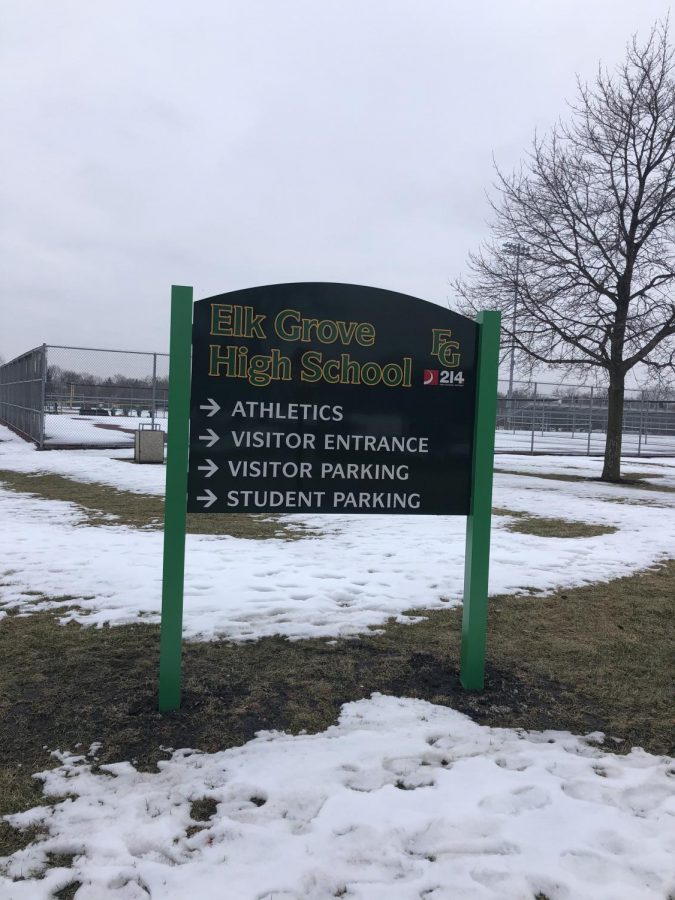 After winter break, Elk Grove High School students may have noticed something new when turning into the school from Arlington Heights Road or Elk Grove Boulevard.
At various entrance points to the parking lots, there are brand new forest and lime green signs pointing visitors toward certain areas of the lots and the school. The new signs are the result of reports of visitors being confused on where to go once at EGHS and a need for a renovation from the older green-and-gold ones.
Associate Principal for operations Kyle Burritt said he started thinking about working on this particular signage project at the school about 18 months ago. He said he got the idea from seeing the same style of signs at Addison Trail High School.
"I saw the signs at Addison Trail and said to myself, I really like these signs," Burritt said.
The project was supposed to be completed this upcoming summer, but it was done earlier because people couldn't find certain entrances or areas to the school.
"Night events were really hard to find for visiting fans, and we began to get some complaints about not knowing where to go," Burritt said.
The old signs were considered especially confusing when people were directed in the wrong direction to find the pool. Parents from visiting schools were parking in the front of the school instead of in the back by the athletic event parking.
The athletic directors and Burritt met during this process to try and get the most accurate wording on the new signs. They wanted to make sure no one would be confused on where to go anymore and have the correct locations.
The signage project cost around $14,000 and although it was a long process, Burritt said he feels it was totally worth it.
Since coming back from winter break, Burritt said he has gotten extremely positive feedback from both students and staff on the looks of the signs and how they turned out overall.
"We want people to feel welcome here at Elk Grove instead of lost the minute they arrive," he said.
So far this is just an Elk Grove upgrade but, Burritt, wouldn't be surprised if other schools in Township High School District 214 jumped at the opportunity to update signage as well.
Brady Tosterud, a sophomore and student-athlete, said he is a fan of the new signs outside. Although Tosterud said he was never confused by the signs, he can see why they were confusing for visiting parties to EGHS.
"These new signs will be an easier navigation for visiting school's fans," Tosterud said.
With the hopes of being more helpful, Burritt said that the change in signage was completely necessary and totally worth the cost to install the new signs around the building.
"The old ones were at least 20 years old and it was just time for a change," Burritt said.