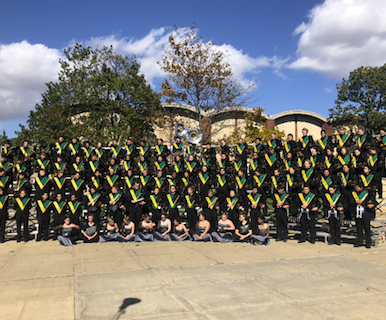 The Elk Grove High School Marching Grenadiers and color guard wrapped up their illustrious competition season Saturday, Oct. 20 at the Illinois State Marching Band Championships at Illinois State University.
The Marching Grens, led by EGHS music teacher Ron Fiorito, are coming off a season to remember. After winning multiple competitions in September, the squads carried the confidence into the final competition, where the Marching Grens took third place in Class 4A and 12th place out of 42 total teams.
"This is one of the most successful seasons in school history," Fiorito said in an email. "The students really came together all season."
The Marching Grens were scheduled to perform after 1 p.m. inside Hancock Stadium in Normal, Ill. The band and color guard performed their act "New World" featuring the music by composer Antonin Dvorak and pop star Bjork.
The band has performed this piece during their previous award-winning competitions and during halftime at Elk Grove football games.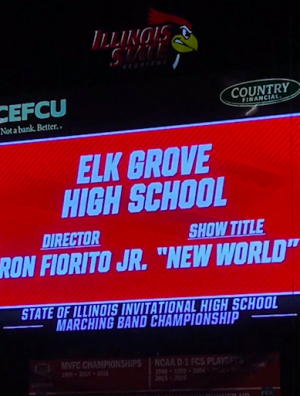 Due to the band's performance, EGHS were able to snag a spot in the finals at ISU.
"Honestly, we had two of our best performances ever at the Illinois State Marching Band Championships," Fiorito said. "Despite some intense weather conditions, the band and color guard performed well."
The finals were set to begin at 7:30 p.m., and the Marching Grens performed the "New World," composition once again.
Fiorito was delighted with the performance of the Marching Grens and with the improvements his band and color guard have made this school year. He credited the countless hours of practice — including a Saturday rehearsal and a few Thursday night visual rehearsals —  for having a huge impact on how the band and color guard performed.
Fiorito and the band are optimistic that they will carry that confidence and success into next year.