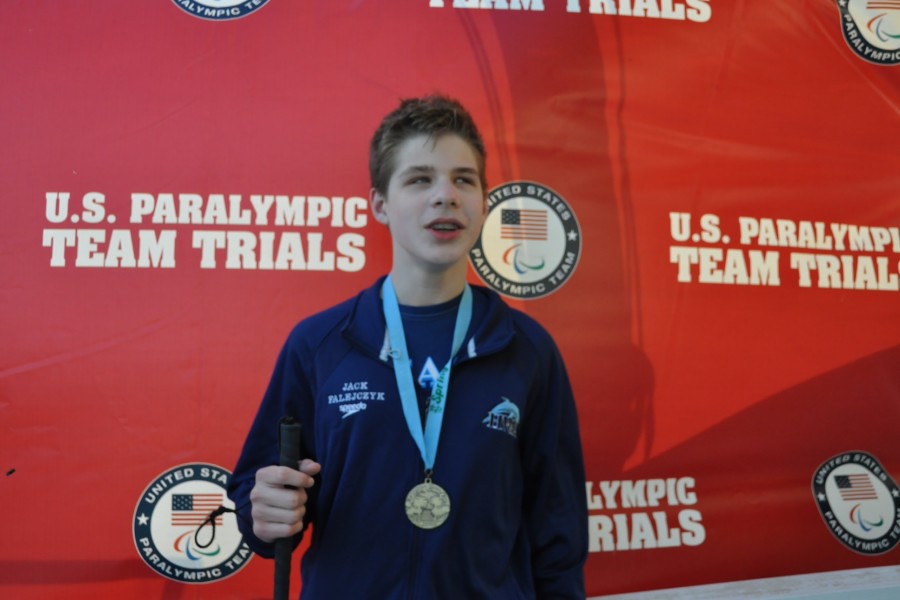 With the winter sports season wrapped up, one student hasn't called it quits just yet. Freshman Jack Falejczyk is continuing his competitive swimming career beyond Elk Grove, not letting the fact that he is blind keep him from competing at advanced levels.
"I got four medals in sectionals and four in state," Falejczyk said. "I [also] went to a Paralympics swim meet. I did considerably well."
His times at the state competition allowed him to go to the Paralympics in Toronto, Ontario. Out of six events he competed in, Falejczyk placed in several, including the event he considers his best: the 200 meter individual medley.
Falejczyk believes he has become a better swimmer simply due to practice. He began swimming competitively when he was nine, after taking just a few swim lessons.
"I got on a team that was devoted to blind people, but it was very far away in Vernon Hills. So I went onto a local team [The Elk Grove Stingrays], and I loved it," Falejczyk said.
"I coached Jack in club swimming three or four years ago when he first started," EGHS aquatics instructor, Dave Toler said. "That gave me a bit of a background to know what to expect [this year.]"
Toler and his assistant coach, Jason Spjuth both believe that they have learned more about coaching from Falejczyk, while simultaneously making him a better swimmer.
"Jack is very competent, […] but it's hard to explain visual cues. We did a lot of hands on so he gets the idea of how to properly do things. At first I felt like I was constantly yelling at him, but then I realized it wasn't a bad thing. That's how his perception is: completely auditory," Toler said. "I think it makes me a better coach. It makes Mr. Spjuth a better coach too."
Falejczyk says he tries not to let his disability affect him during meets. The only abnormality an observer would see is Jack being tapped on the head with a pole near each end of the pool to signify the wall ahead.
"Jack really opened up my eyes as to how incredible what he does is," said sophomore and teammate Markos Christoforou. "Helping him to the pool, to the locker room, or getting a kick board for him was my pleasure. He inspired me during the season."
His teammates and coaches helped him stay in a straight line in the water, one of the main things he worked on this season.
"I've learned a lot about being more competitive in the future [and] ways to beat the other swimmers," Falejczyk said.
Falejczyk intends to apply what he has learned at EG and in Toronto to the swim team he is currently on, a club team for the Hickory Willow Swim Association.
"Having a disability should never stop you from following your dreams," Falejczyk said. "No matter how different you are, you're still the same as everyone else."