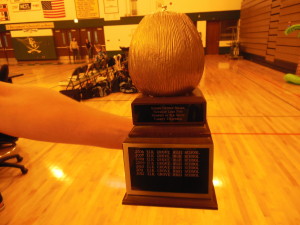 Hawaiian Night is a seven year tradition celebrating Elk Grove v. Prospect girls volleyball in a battle for the prestigious Golden Coconut. Created by Joe DiSilvio, this has been a part of the Lady Grens season for the past seven years.
"I love it, the golden coconut is a great idea, it's been fun winning it and I plan on keeping the streak going," said team captain senior Melissa Solorio.
Being undefeated on Hawaiian Night, Grens faced off against Prospect in a conference game where there was more at stake than a win, the Golden Coconut.
"Hawaiian Night is always a big match for us.  All our conference games are important but this is important because of the Golden Coconut," said coach Stephanie Kezios.
The girls have huge momentum coming into this game after knocking down conference powerhouse  John Hersey High School this past Tuesday.
"The game against Hersey felt good because, it gives us more momentum into the season because now we know we can beat any team" said team captain senior Kelly Regan.
The Grens came right out of the gate, proving why they are the seven time Hawaiian Night champs, taking a quick lead in the first set. The game was stopped during the set because of a fire alarm, but that did not slow down the girls as they went on to win the first set 25-19. The Lady Grens kept their  momentum going as they went on to win the second set and the game 25-18.
"The girls played consistently well.  I was happy how disciplined they were after the fire alarm," Kezios said. "It definitely gives us momentum to the second half of the season we are looking forward to it."
Team captains Solorio, Regan, and senior Kerry Souder, are excited and ready for the second half of the season. They proved to be a serious contender for the conference champ by defeating Hersey and now Prospect.
"The rest of the season we are on other people's radar," Souder said. "We just have to play our game play our hardest, stay focused, play up to our expectation, because we are a really good team we've proven that."
By Daryl Rivera